What is Punching Bag?
A punching bag is a cylindrical bag often filled with grains, sand, rags, or has an internal bladder allowing them to be filled with air or water.
It is built to allow repeated punches, strikes or kicks without breaking or injuring the user.
The outer covering of the bag can be made of leather, vinyl, or canvas.
The material of choice must be resistant to mildew and abrasion.
It is used during training in martial arts and combat sports like karate, taekwondo, and Muay Thai.
A punching bag can be mounted on a pedestal, attached to a wall, hang from a stand or ceiling to enable the user to learn their sport.
Punching bags come in various types and sizes. Common types include; speed bags, swerve balls, maize bags, heavy bags, wall bags, and uppercut bags.
With the development of training equipment, some bags are reshaped to have a human-like structure.
This helps the athlete visualize the partner and actions required while in the ring.
Punching the bag isn't done in vain; techniques used by the fighter when punching or kicking helps to build certain skills.
These include learning to keep their hands up, build hand-eye coordination, and shift weight from one foot to the other while punching.
The athlete also learns to increase their hand speed, timing, coordination, strengthening the body, and stamina.
Bearing in mind the athletes fight in pairs, some bags are set to respond to a strike by moving towards them from various angles. This forces the user to dodge, punch, or swerve in coordination with the bag's motion.
The force and speed required to strike vary from one bag to another. The fighter should understand this and learn to control their head motion to evade the bag.
Every martial art and combat athlete needs to learn how to train using various punching bags.
By following the instructions of a coach, injuries following the wrong application can be avoided.
Common injuries include sprain, strain, or extreme damage of bone-plate affecting the bone structure.
To increase safety while training with a punching bag, athletes should wear training gloves to protect their hands.
Beginners should consider wearing headgears as the risk of some bags bouncing back on their faces is imminent.
What is Heavy Bag?
Heavy bags are a larger type of punching bag.
They come in various shapes; cylindrical and teardrop being the most common.
They can either hang from the ceiling, stands, or sit on a pedestal. They are best for developing powerful body punches and kicks hence toughening hands or legs.
Heavy bags are commonly used for Muay Thai drills, Kickboxing, and fitness training to improve swiftness, strength, tone muscles, and increase stability.
They are also used as a means of releasing stress. Whatever the usage, the user should have general knowledge on how to handle them and avoid injury.
Top-quality heavy bags are made with genuine leather such as cowhide due to its durability despite the extreme physical abuse they are exposed to.
Most bags have about 2mm foam beneath the outer shell for shock absorbency and protect the knuckles or legs of the athlete.
Some manufacturers prefer to fill the bags with blended fabric, compressed and evenly centered.
Where the filling isn't done, heavy bags can be filled with sand, water, or air depending on the manufacturer's specifications.
Common brands of heavy bags include; Everlast, Ringside, Century, Title, and RDX.
Where the heavy bag requires suspension from the ceiling, most bags have nylon straps or D-rings on the top side.
They also include a heavy-duty chain to hold up the bag. For perfect positioning, most cylindrical bags have an extra D-ring at the bottom that can be used to tie it down.
While buying a heavy bag, do thorough research on the best quality your money can buy.
Decide between those with artificial leather finishing that may be affordable and those made from genuine leather.
The latter cost more. Consider the amount of space you have available for the bag if you are going to have a home gym.
Freestanding bags work best at home because they save space. You will need to place it on a carpet to reduce the noise from the impact.
An adjustable stand is suitable if you can't use the ceiling to hang your heavy bag.
Lastly, keep your gloves on while punching. You run the risk of injuring your knuckles when you punch barehanded.
Here we have collected some best Heavy and Punching bag for you.
Everlast HydroStrike Water Bag, 100 lb
Built solid to last long, Everlast HydroStrike water bag is designed with the latest technology to absorb each strike without harming your knuckles and wrists.
Steady with unnoticeable vibrations during training. Ideal heavy bag for athletes seeking boxing workouts and physical fitness.
Suitable for toning muscles, building stamina, and strength.
Almost a teardrop-shaped bag comes with a hanging bracket, chain, nozzle, and quick link.
Roughly 28.13" in height with 14.25" diameter; great size for both indoor and outdoor training.
Shipped while empty but easy to fill to the required 100lbs.
Incredibly easy to set up. You won't need a new punching bag anytime soon. It comes with 2 years guarantee.
Everlast 60-lbs Platinum Nevatear Heavy Bag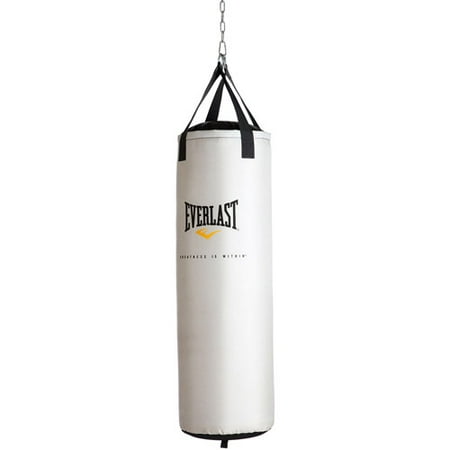 Made from durable artificial leather, Everlast 60-pound platinum Nevatear heavy bag is the impeccable fit for every indoor gym.
Fitted with secure heavy-duty nylon straps for safety.
Double End ties down feature for superior resistance and increased heavy bag performance.
It provides unparalleled shock absorbency from specially blended stuffing.
Suitable for combination punching to gain speed and general training.
Great equipment for young athletes even those weighing less than 100lbs.
It comes with an adjustable chain to suit various users.
Restyled for long-term usage without the need for replacement.
Perfect training equipment for upcoming fighters. Approximate dimensions: 40" in height, 14" in diameter.
Century Wavemaster XXL Training Bag
Save space and money with the prevalent free-standing Century Wavemaster XXL training bag.
Built from a compacted foam covered with a heavy-duty vinyl coating.
Kind to the athlete's hands.
Set on an ultra-stable hard plastic base for even weight distribution.
Incomparable heavy bag for kickboxing, elbow jabs, power punching, and cardio-based exercises.
Perfect for home use emit low noise on carpet or padded floor.
Shipped empty for filling with sand or water.
Approximately 69" in height, 18" in diameter.
Weighs about 270lbs including the base when filled.
Easy to assemble.
Simply the most resourceful heavy bag in the market. It comes with a 1-year warranty
Ringside Leather 100 lb. Heavy Bag
Build muscular strength and mobility with the magnificent Ringside Leather 100-pounds heavy bag.
Designed with high-quality craftsmanship with 2" thick foam cushion all round for comfortable hitting area and continuous use.
Leather finishing ensures zero trauma on knuckles, wrists, and joints.
Approximately 42" in height, 14" in diameter bag with laced string closure on top allowing additional stuffing if needed; otherwise, ready hang and use.
It comes with a heavy bag chain and swivel.
Has D-ring on the bottom to weigh down or attach bungee cords to hold in position.
Great for the cardio workout, beginner, and longtime training. Best value for your money.
TITLE Leather Professional Choice Heavy Bag
Top-grade, an all-leather heavy bag made from full grain genuine extra thick cowhide leather on the exterior for excellent feel.
Great stitch work with assurance for durability.
Especially stuffed with shreds of poly fiber matter surrounded by foam rubber liner.
Evident balance center weight.
Comes with heavy-duty chain, swivel, has D-ring on the bottom to weigh down.
Four Top hanging D-rings. Available in 70lbs, 100lbs for 42" height, 14" diameter bag.
And 150lbs for 48" height, 18" diameter bag. Shipped prefilled, ready to hang and punch.
Build your personal or family home gym for all workouts; cardio, kickboxing, power punch.
Worth every dollar.
Ringside Heritage Genuine Leather Top Quality Boxing MMA Muay Thai
Fitness Workout Training Kicking Punching 90 lb Heavy Bag.
Maintain your fitness goals and martial arts touch with the top-notch Ringside Heritage Genuine Leather Training Heavy bag. Set on 2.2mm premium dyed genuine cowhide leather for exterior finishing to exude an excellent sense of style.
Designed with soft strike surface, professionally reinforced seams to last longest.
Forgiving to your hands, offering outstanding results for every workout.
Best equipment for boxing, MMA, Muay Thai, and any athlete who desires toning muscles, building power, aerobic workout.
Approximate size: 48" height, 16" diameter, weighs 90 pounds.
The most valuable and durable heavy bag for world-class health clubs and gym.
Your best fitness investment ever.
Everlast Dual Station Heavy Bag Stand, 100-lb, Speedbag, Value Bundle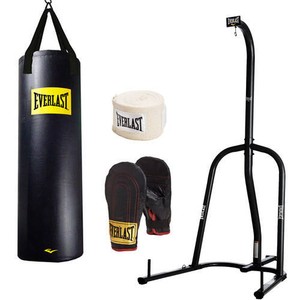 Reclaim your physical and mental health with Everlast Dual–Station Heavy Bag Stand, 100-lb, Speedbag, Value Bundle.
Safeguard your hands with 100% cotton hand wraps or genuine Everlast leather bag gloves with palm grip for steadiness.
Easy to set up, perfect height, a strong stand for your dual station.
Top-quality prefilled Everlast 100 pounds Nevatear Heavy bag for your kickboxing and power punching.
Increase your punching speed and coordination with Everlast Leather speed bag; fill with air before use.
Set up your home gym for muscle building, toning, and gain speed with one unbeatable fitness package.
Your unparalleled combat sports station.
Everlast 2228 PowerCore Freestanding Heavy Bag
Build the ultimate space economic home gym with unrivaled Everlast 2228 PowerCore freestanding heavy bag.
Easy to assemble a heavy bag of approximately 250 pounds uses Powercore steel technology to boost total strength.
Height adjustable up to 65" to allow users of various heights and abilities.
Tri-disc foam construction for energy diffusion.
The higher power absorption and re-coil with Powercore transfer Ring collar. High-density neck for extreme flexibility.
Compact base enables easy access and stability; Shipped empty, fill with sand to stand.
Long-lasting equipment, great for executing intense kickboxing, Muay Thai drills, cardio workouts.
Suitable for both indoor and outdoor training.
RDX Punching Bag Heavy Boxing 4FT 5FT Filled MMA Punching Bags Training Gloves KickBoxing

Get the best bargain ever for your Muay Thai kickboxing or MMA training with RDX punching bag heavy boxing bags with FREE Pro bag gloves.
Top-quality double-stitched leather bag made from RDX Zero Impact G-core twin layered genuine Maya Hide leather.
Unique holding capacity of 22 Kg for 4ft, 26kg for 5ft of shredded textile filler.
Top closure fastens with long-lasting zip for extreme fill potential.
Comfortable to punch or kick without bruising your body or breaking the leather.
Reduce bag swing with a loop facility on the bottom of the heavy bag.
Best suit for both indoor and outdoor all-around combat training.
Everlast Heavy Bag Kit 100 lbs Punching Boxing Bag Gloves Hand Wraps NEW
Designed with your fitness in mind, Everlast 100 pound heavy bag is made from premium synthetic leather for extended use and functionality.
Top Quality stitching for robustness.
Readily absorbs the impact of every punch, kick and jab without injuring your knuckles, legs or elbow.
Safety and security guaranteed with heavy-duty nylon straps.
Experience excellent breathability, comfort, and excellent grip with 100% cotton hand wraps.
Gain outstanding stability with padded palm grip gloves.
It comes with an adjustable heavy bag chain, the bag stuffed, and ready for your punch.
A complete package to silence your everyday frustrations.
Great value for your money.